What Is the Difference Between Home Care and Home Health Care?
Navigating your many options for elder care can be confusing — especially if you've never done it before — since many of the names are similar and the distinctions can be fuzzy. Today, we're breaking down the differences between "home care" and "home health care," two of the most common (and confusingly named) options. We'll compare and contrast the two and then explain who can benefit from each type of care.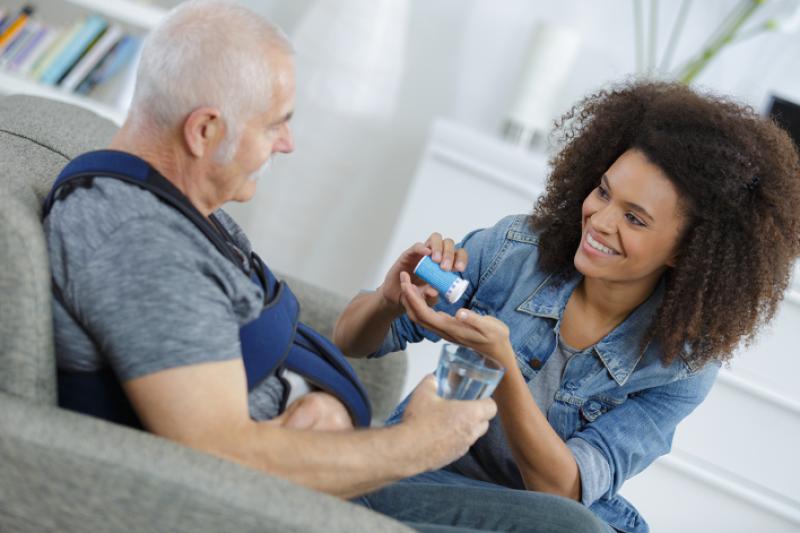 By ALPA PROD / Shutterstock.com
What Is the Difference Between Home Care and Home Health Care?
"Home health care" and "home care" sound interchangeable, but they are actually two distinct services. As the names hint at, home health care involves providing at-home medical services, while home care involves providing non-medical services.
Some of the tasks a home health aide might help with are physical therapy, administering medication, giving shots, running medical tests, changing a wound dressing after surgery and generally monitoring the patient's health status. Note that home health care is a step below what a private nurse will provide in terms of complexity. Private nurses usually work with clients who have severe, chronic conditions that require care beyond what a home health aide is certified for (for example, ventilator care or tube feeding). If your loved one essentially needs hospital-level care at home, then a private nurse may be more in line with what you need.
On the other hand, home care is distinctly non-medical care for those who need help with daily activities. Home care aides help with vacuuming, mopping, dusting and other cleaning tasks; meal preparation and cleanup; essential errands such as grocery shopping; transportation to appointments; and personal hygiene activities such as bathing, grooming, dressing and putting on diabetic footwear. They can also provide reminders to take medication, but they cannot actually administer medication or provide any medical care because they are not certified to do so.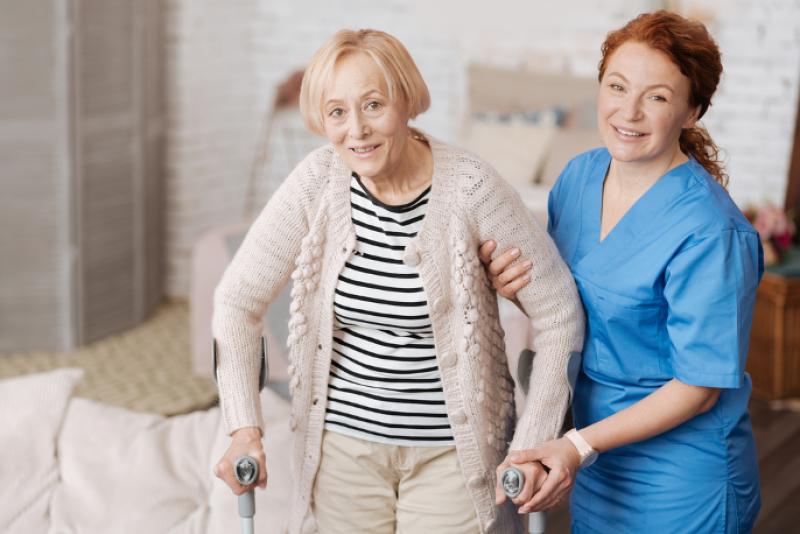 By Dmytro Zinkevych / Shutterstock.com
Who Can Benefit from Home Care vs. Home Health Care?
Both home care and home health care can be beneficial in different scenarios. Home health care is a good choice if your loved one needs help with "basic" medical tasks. Home health aides are often helpful after surgery, a hospital stay or rehabilitation when a patient is still recovering and not completely able to take care of themselves yet. They can also keep an eye on patients after a medication change to make sure they are adjusting well without side effects. Home health care can also be a great option if your loved one would benefit from physical or occupational therapy but is too fragile to travel to a facility on a regular basis.
On the other hand, home care is better suited for people who need companionship and help with daily tasks. Many older adults who are isolated and live far away from family benefit from home care visits. Home care can also be a good supplement for loved ones who are already taking care of relatives and need some help with tasks, such as cooking and cleaning. Older adults who can no longer drive themselves or navigate public transportation safely will also benefit from home care.
By Chaay_Tee / Shutterstock.com
What If Your Loved One Needs Both?
It's not uncommon to be in a situation where your loved one could potentially benefit from both home care and home health care. This is because many chronic health problems that can require home health care also make it difficult for older adults to go about daily activities like cooking and cleaning. The older they are, or the more fragile their health, the more likely they are to need help in both arenas.
You may be able to find a caretaker to provide a mix of both. Try searching for "private duty care," which is a catch-all term that covers both home health and home care duties. Always confirm with the agency or caregiver that they provide the exact services that you need, since not all agencies offer the same services.
If you are already taking care of your elderly loved one and looking for some relief support, take some time to think about what aspects of their care are most time-consuming and stressful. For some people, medical assistance will be more time-consuming, whereas for others, it will be taking care of daily activities like bathing and mealtimes. If you only want to get home care or home health care — not both — choose the one that will give you the most relief.
Also keep in mind that you can hire other services to take care of certain aspects of home care, such as maid services and meal delivery services. Depending on your relative's needs, it may be more cost effective to pay for these services a couple of times a month than to have a home health aide come in every day. Other investments, such as adaptive clothing for women and men's elastic waist pants or assistive devices for people with arthritis, can also make it easier for your loved one to navigate their home independently.
Speaking of finances, you may be able to get either home health care or home care covered by insurance, depending on the situation. Home health care is more likely to be covered by various insurance plans, including Medicaid, Medicare and private insurance. Home care is usually covered by Medicaid, and will be covered by Medicare or private insurance if it is ordered by a physician. Private pay is commonly used for home care when it is not ordered by a physician.
Home care and home health care aren't the only choices. If your loved one needs around-the-clock care or very complicated medical treatment, then hiring a private nurse or moving them into an assisted living facility might be a better decision in the long run. Some assisted living facilities are even specially designed to care for elderly people with dementia or other medical conditions that make it especially hard to care for them at home. Make sure that you weigh all the options before settling on home health care or home care.